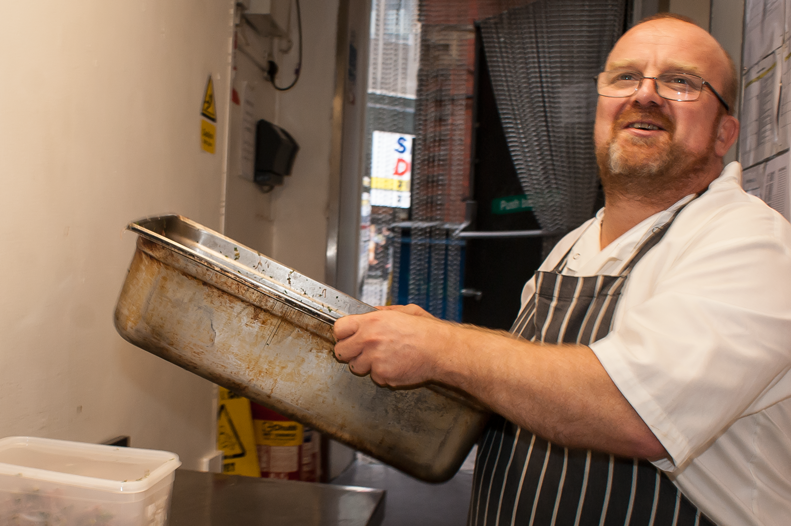 Sam's Chop House
 has been a well established restaurant within Manchester city centre for over 140 years. They are best known for their homely, traditional British food with quirky restaurant interiors and good beer. They are a part of The Victorian Chophouse Company which includes
Mr Thomas's
and
The Albert Square
Chop Houses, all situated within walking distance from one another; there is also another Sam's Chop House open in Leeds. Tony Atkins, head chef has recently concluded his level 3 management qualification through Sam's Chop House along side ourselves at Back2Work Complete Training. So we paid a visit to him at work, to present him with his certificates and asked a few questions while we were there. Here's what was said:
What was it that made you want to work as a chef? 
"Back when I was in school I started to like the idea of cooking. Also when I first tasted curry, there was nothing quite like it"!
I think we can all agree on curry. So how long have you been working with The Chop House and whats kept you here?
"I've been here about 5 or 6 years now, I really enjoy it. It's busy and I work with good people. I decided to work here because of the career prospects and the opportunity to push the company forward".
What encouraged you to take our Level 3 management course?
"The head chef that worked here before me got a promotion up to operations manager, and so there was the head chef vacancy. As I was the most experienced to take the role, I was put forward for it. However going up to a management position there are a leading techniques which need to be taken into consideration. Also the fact that it is free helps".
How has the qualification changed your approach to your work?     
"I'm a lot calmer ".
Why is that?
"Kitchens aren't like they were back in the 90's, things are different now,  you need a more understanding and have a calm approach to leading."
Thanks Tony we'll let you get back to your cooking now.
Overall Tony was more than happy with being able to add the qualification onto his career belt, enabling him to refine his management style. One of his team members is also participating in a course with ourselves, so we could end up back there. Until then, we would recommend going down and seeing what Tony and his team can do, as I'm sure we will be doing, because the food smelt wonderful.