What is Pre-Employment Training?
Pre-Employment Training is designed for people who are unemployed and looking to get into or back into the job market and covers a range of job market sectors. Throughout the Pre-Employment training, learners will gain a qualification in employability and qualifications for skills and training relevant to the industry they are doing the course for, these skills will also help prepare learners for their interviews and further prepare them for employment.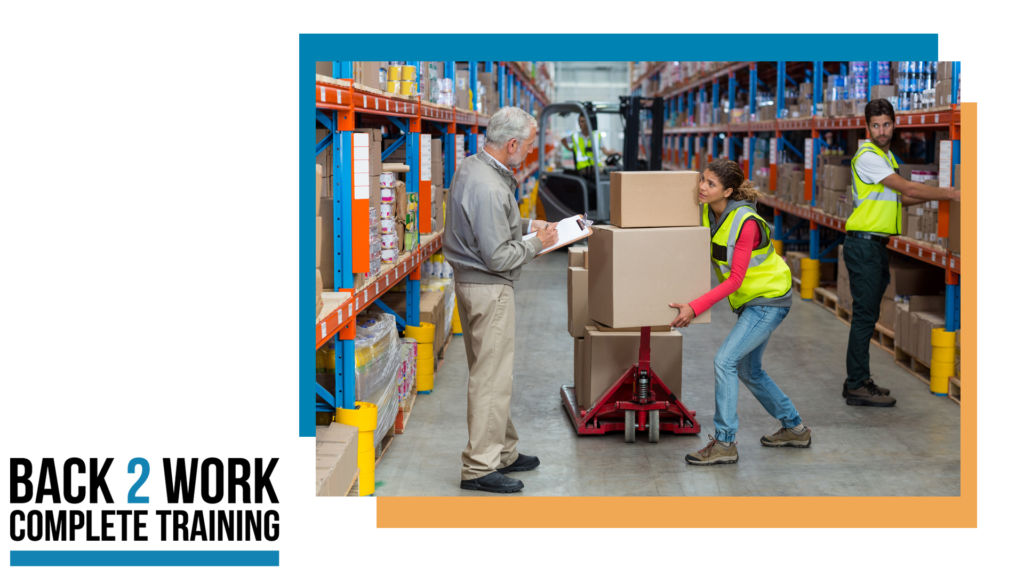 Benefits of Pre-Employment Training
We will also support learners and jobseekers through our dedicated Progressions Team, who aim to provide suitable job interviews for all who take part in our Pre-Employment Training with Back2Work Complete Training.
The qualifications you can gain from Pre-Employment Training range between levels 1 and 2, the course will provide you with a better understanding of the industry and improve your sector specific skills and knowledge.
If you decide to choose Back2Work Complete Training as your Pre-Employment training provider, we guarantee you a job interview after you have completed the training course and gained the relevant qualifications. 
What courses are available
The courses available through B2W Complete Training are:
This is a list of courses that we have available at B2W Group, there is also the Upcoming Courses page showing the latest courses that are available from B2W Complete Training. These courses are available for a large majority of places in the UK
Where our learners find their most value
Between Jan-July 2021, we trained 3,396 people across each area. And of those people, 66% (2,079 learners) progressed to full-time employment. These jobs are across areas such as warehousing, construction, health and social care, digital skills, and contact centre roles. We have found that our most successful courses are our Warehousing and Construction courses.  The numbers in the pie chart show the number of learners who are in full-time employment after completing their courses, again showing that warehousing and construction yield the highest number of learners to full-time employment.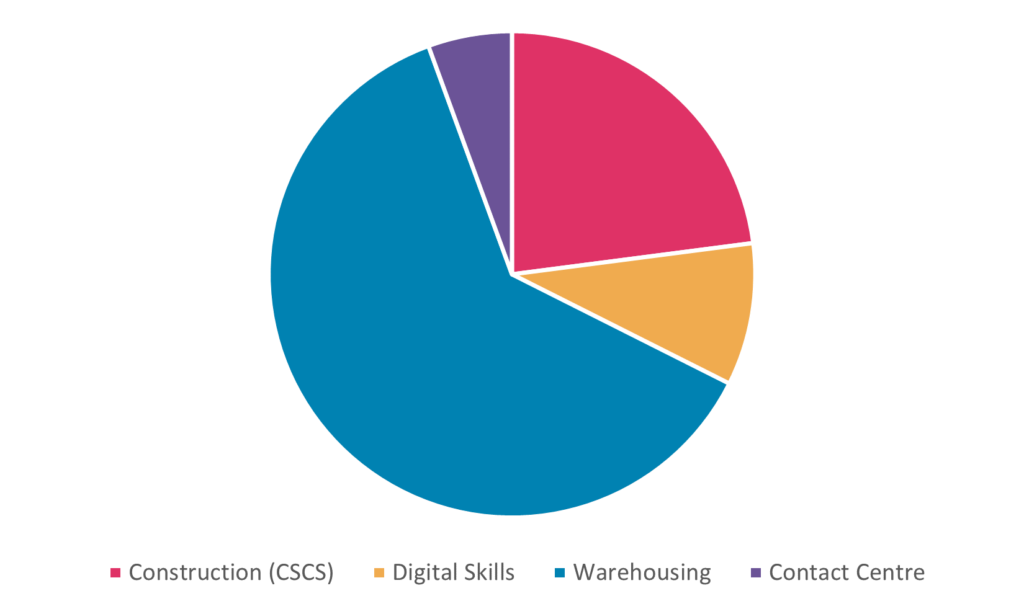 906 CSCS learners trained, with 477 (52.64%) supported into full-time employment.
337 Digital Skills learners trained, with 197 (58.45%) supported into full-time employment.
201 Contact Centre learners trained, with 116 (57.71%) supported into full-time employment.
1952 Warehouse learners trained, with 1289 (66%) supported into full-time employment.
Learner Interviews
We have multiple Learner Testimonials from our past learners who give their thoughts and experiences whilst undertaking courses with us at B2W Complete Training. Click their names to follow their stories. 
Nnamdi Obi Onubogu | Construction

  "At the time I was taking this course I was unemployed. The course gave me the tools I needed to prepare for the interviews I went for and got back into the job market.
Ofsted report
To show how dedicated we are to getting learners into work and education, here are some of the comments we received during our Ofsted inspection. We are proud of these comments and would like to share them. 
"Tutors ensure learners and apprentices develop the employability skills they need for work. Tutors use their expert knowledge of their subject area, for example in construction, warehousing and digital marketing, to develop the curriculum."
"The ambitious curriculum transforms the lives of learners."
"Unemployed adults gain the skills and confidence they need to apply for jobs and secure employment. They develop strategies to improve their resilience. Learners on pre-employment and traineeship programmes complete mock interviews and online assessments that help them prepare for job recruitment processes."
Frequently Asked Questions
How long are the courses?

We run both 5 and 10-day courses & a member of our team will inform you on the length of the course when they contact you to confirm your eligibility and details.
 

Am I applying for a job?

Our Pre-Employment Courses prepare you for work by earning you a qualification. You will receive a guaranteed interview on successful completion of the course, and your new skills and qualification will give you a competitive advantage over the competition.
I have completed my course but haven't received my certificates?

When this happens, it is because we are waiting for the awarding bodies to release the certificates. If you have any issues receiving your certificate, please reach out to us directly and we'll support you however we can. 
 

I took a course and didn't find employment upon completing the course?

Our Pre-Employment Training course equips you with the skills and qualifications to give you a competitive advantage over the competition in an interview. Unfortunately, we are not able to guarantee a job. As these are high-demand jobs with a lot of applicants, it is the employers' discretion to determine who is right for the role.
Is the training free?

All our courses are free & all course-related expenses are fully funded. This includes the test for your CSCS Card.
Why do I need to provide my personal information to apply? 

We require your contact information so a member of our team can reach out to you & verify your details when booking you in for a course. We require your home address so we can verify that you live in an area that is eligible for the funding required to enrol you on the course.
Every week we upload new courses to our Upcoming Courses page which range from Warehousing to Digital Skills. To garuntee your spot on one of our courses follow the link for all of our upcoming courses and opportunities here Upcoming Courses.