Over 85%* of UK construction sites are looking for new employees with a relevant CSCS card to work on their sites.
The Construction Skills Certification Scheme (CSCS) is a nationally recognised award that proves you're qualified to work on a construction site.
Could a construction programme with Back2Work Complete Training be the next step in your career?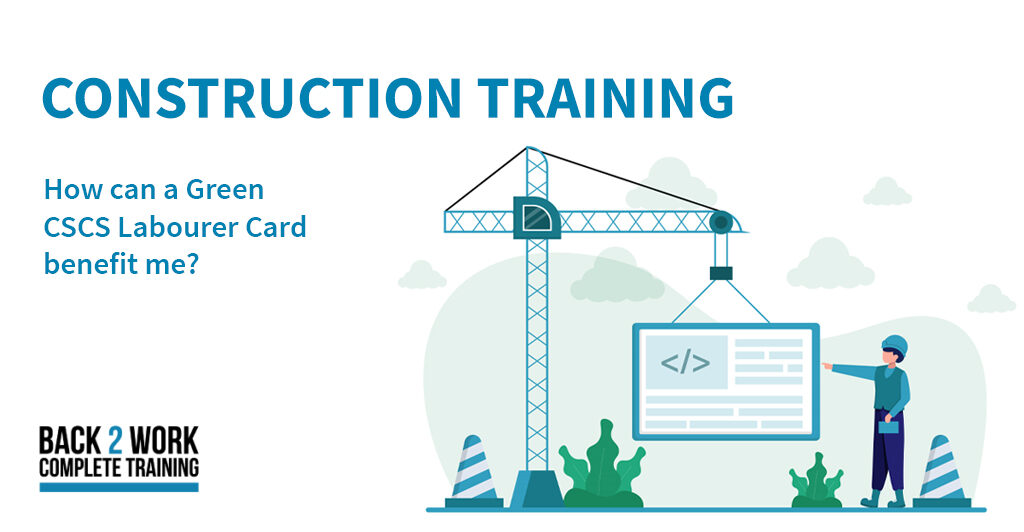 What Does a CSCS Green Card Mean to You?
The CSCS Green Labourer Card proves that an individual has the correct training and knowledge to work safely on a construction site.
The training behind the Green CSCS Labourer Card ensures you're equipped with essential Health and Safety knowledge when working on a construction site. As the construction industry is known for its potential hazards, being risk-averse is key to being safe on a worksite.
The course is designed to prepare workers with the minimum required qualifications, so it's likely you'll need a card even for entry-level positions.
How do you get a Green CSCS Labourer Card?
To get the card, you must complete a relevant course and receive the correct qualifications.
The course can be completed online as part of a programme, with Back2Work Complete Training
The requirements for the CSCS card include:
You must be over the age of 16
You must have passed the CITB Health, Safety and Environment test within the past 2 years
You must also pass one of the following:
An RQF Level 1/SCQF Level 4 Award in Health and Safety in a Construction Environment.
An SCQF Level 5 REHIS Elementary Health and Safety Certificate.
A CSCS approved alternative
Back2Work Complete Training also provide an online training course with a fully funded test included at the end; see how you can sign up here – http://ixy.34b.myftpupload.com/upcoming-courses/
How Much Would It Cost?
The card would usually cost £36 and the CITB (Health, safety, and environment) test costs £21.
However, Back2Work Complete Training fund the Green CSCS Labourer Card as well as provide the training completely free!
Why Employers Require Health and Safety Qualifications
CSCS cards aren't a legislative requirement but are often needed to work on all major sites and many contractors will not employ someone without it. As the labourer card is seen as a minimum requirement for working on construction sites, employers look for employees who have this.
Having the card shows you're trained in implementing the most effective health and safety precautions/measures, helping to keep everyone on the site safe.
What you Learn on a CSCS Course
The main objective of each course you can take as part of the process to gain your CSCS green card includes:
Ensuring you have the correct understanding of the best and up-to-date health and safety practices on a dangerous work site
Ensuring you're informed on typical construction hazards and how they are dealt with/controlled
Education in legal requirements and laws regarding safety on site
Learning about work equipment and its dangers
How to take a CSCS Green Card Test
To apply for your CSCS green card, you must first have passed all the mandatory training qualifications to prove you're eligible for the card.
Back2Work Complete Training offers a 10-day fully funded course that would provide you with a Level 1 Award in Health and Safety in a construction environment, as well as the CSCS test and card at the end of the course. 
To find out how to take your test today, contact the team – http://ixy.34b.myftpupload.com/contact/
To read about more learner experiences with Back2Work Complete Training, see our other blogs here – http://ixy.34b.myftpupload.com/blog/
For more information on the courses that we run and how Back2Work Complete Training can help you find employment, visit our Upcoming Courses page.
*www.constructionskillspeople.com/cscs-cards-how-get-cscs-blue-skilled-worker-card/